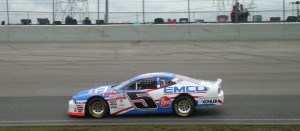 CONTACT ENDS NIGHT EARLY FOR DOWLER AT KAWARTHA
September 22, 2012. Sherwood Park, Alberta's Noel Dowler, the #5 EMCO Dodge team approached the final round of the 2012 NASCAR Canadian Tire Series at Kawartha Speedway near Peterborough, ON looking for another strong finish and to finish as high as possible in the overall standings.  While being collected in an incident would end the team's night early, Dowler still finished in top ten of the overall championship standings.
During the afternoon practice session Dowler wouldn't find the #5 EMCO Dodge quite to his liking.  "The car just didn't have the balance we expected or were used to" explained the driver.  Following practice the team worked on the car to improve the handling.  With no time to practice with the changes Dowler went blindly into his qualifying run and would start the 250 lap feature 24th.
As the green flag dropped to begin the race Dowler took a patient approach.  During an early caution period the team also chose to pit for further adjustments.  "The car was definitely better after that" said Dowler.  "We still had plenty of time left so I started to get a bit more aggressive looking for openings" he added.
The #5 EMCO Dodge would make steady progress climbing in the field before being collected in an incident between turns one and two.  "That one wasn't too bad" explained the driver.  "It didn't really hurt the car".
The same could not be said later on.  Continuing his methodical approach Dowler was racing toward corner three when he was collected in another incident and suffered severe trauma.  A quick inspection from the team determined the damage was too critical to continue.  "It's too bad because the car was a lot better and we were making some progress.  I guess we kind of finished the season the way we started with a tough outing" said the driver.
Though the final race ended premature for the #5 EMCO Dodge driver, Dowler is proud of how well the team performed in their first full season of competition.  "I'm so proud to work with this group of guys" he stated.  "Starting with Crew Chief Chris Wright and right through the entire group, they worked so hard every week".
"We accomplished a lot this year picking up five top ten finishes, we got our first podium finish at Barrie Speedway, a really tough race track, and we finished in the top ten in the standings.  Other teams and drivers are recognizing how far we've come and I think we're earning their respect.  It's also making everyone even hungrier for more success".
"This whole #5 EMCO Dodge team is grateful for the fantastic support we receive from all of our partners and we're honoured to represent them.  We had some really special visits to EMCO dealer locations this year and to have so many people come to the race tracks and cheer us on is just wonderful.  And the same kind of encouragement comes from our partners at Kohler and Rheem, they're just great to work with and we want to keep getting better to thank all of them too".
As with any successful operation there will be plenty of work done in the off season to get ready for the 2013 season.  "We'll evaluate how we do things, we already have some ideas for a few improvements" said Dowler.  "It looks like we'll do some racing in the US this fall too to get some more experience so there's a lot going on.  We're ready to take that next step" he added.
and follow him on twitter, @noeldowler.
Attached Photo:  Noel Dowler in the #5 EMCO Dodge at Kawartha Speedway.
Photo Credit:  Todd Lewis
This release prepared by, TL Sports & Entertainment, todd@tlsportsent.com (239) 961-2618