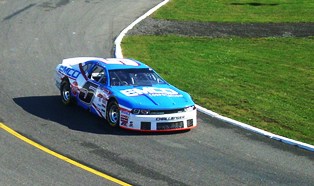 FIRST PODIUM FINISH FOR NOEL DOWLER
September 9, 2012.  Sherwood Park, Alberta's Noel Dowler continues to enjoy a sophomore season in the #5 EMCO Dodge participating in the NASCAR Canadian Tire Series with improved race results and a season of firsts.  Earlier this year Dowler scored his first top ten result in the series and this past weekend at Barrie Speedway Dowler recorded his first podium finish with a third place result.
During practice the #5 EMCO Dodge team worked to have a race that would perform consistently for the 300 lap feature event.  Though Dowler did not have a strong qualifying run he was confident they would have a solid race.  "The car just felt really good all day" said Dowler.  "I knew that we had the car to have a good day" he added.
In the early going Dowler faced another challenge as his #5 EMCO Dodge ended up spinning between turns one and two.  "In Barrie you have to expect this sort of thing" he explained. "Fortunately we had this happen early so we just continued with our plan and I knew that the car was good enough for us to get back toward the front" he stated.
From that point Dowler's day became much better.  The #5 EMCO Dodge team knew that with the majority of the race remaining hope was not lost.  "We got thrown off our strategy a little bit but with the car set up so well by the team we were doing okay" said Dowler.
The #5 EMCO Dodge team completed their final pit stop of the afternoon and the rest was now up to Dowler.  The second year driver moved the car smartly into the top-ten and then continued to look for opportunities to gain positions.  With a late caution flag slowing the field, Dowler found himself close to the front of the pack with one more restart opportunity to gain more positions.
With the race set up for a green, white, checkered finish Dowler dug deep on the restart looking to move up.  He would get a little assistance as the first two cars in the running order would have contact and spin out.  On the final lap he continued to push and would cross the finish line third overall.
"What a great day for the whole team" said Dowler.  "We had a little luck working for us at the end but we also had a really good race car, we didn't get down when we had some troubles early and we raced back to put ourselves in position for this result.  I'm really happy for everybody at EMCO, Kohler, Rheem and the whole team.  This is a great boost for us" he added.
With the third place finish Noel Dowler also climbs to tenth in the overall championship standings.
and follow him on twitter, @noeldowler.
Attached Photo:  Noel Dowler in the #5 EMCO Dodge at Barrie Speedway
Photo Credit:  Todd Lewis
This release prepared by, TL Sports & Entertainment, todd@tlsportsent.com (239) 961-2618