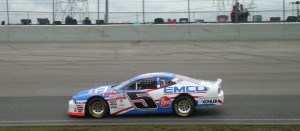 NOEL DOWLER SCORES ANOTHER TOP TEN IN EMCO DODGE
September 15, 2012. Following the first ever NASCAR Canadian Tire Series podium finish for Sherwood Park, Alberta's Noel Dowler, the #5 EMCO Dodge team arrived for round number eleven of the NASCAR Canadian Tire Series at Riverside International Speedway near Antigonish, NS looking to keep the momentum going.  The result was another hard fought top ten result for the second year team that also has them in the top ten in the overall championship point's battle.
Again this past weekend the team worked hard during practice for a comfortable race set up for the #5 EMCO Dodge.  While things looked positive during the afternoon session trouble struck during qualifying.  "I knew something was wrong almost immediately" said Dowler.  "The car just didn't have any drive".
Following his qualifying run the #5 EMCO Dodge team discovered a rear axle had broken and quick repairs would be needed.  It also meant that Dowler would start the 300 lap event from the back of the pack.
With the problem addressed by the crew, Dowler took the green flag for race and immediately set out to gain ground and found success.  Within only a few laps he had smartly moved his way forward and was closing in on the top ten.  Again adversity would strike the #5 EMCO Dodge team.
"I just tried a little too hard to make a pass and ended up spinning between turns 1 and 2" said the driver.  "We needed to get some track position back and I just tried a move that was a little too aggressive" he added.
Undeterred Dowler again set out to again move the #5 EMCO Dodge toward the front of the field.  What hampered the Alberta teenager's progress were a couple of extended green flag runs.  "Having to start at the back really hurt us" he explained.  "With those long green flag runs it just made it very hard to get back some of the track position.  The car was super-fast all day, and if we had a little better track position we could have had an even better result" he stated.
As it was Dowler worked hard to gain every position possible in the race.  The #5 EMCO Dodge team executed scheduled stops for fuel and tires well to keep Noel in the hunt.  When the checkered flag dropped to end the race they would claim a ninth place finish, nine positions better than they started.
"It's another top ten finish which is good" said Dowler.  "Unfortunately we had to battle from the back or I think for sure we would have had an even better result" he added.
With another top ten finish at Riverside, Dowler remains in the top ten in the overall point's battle, just nine points away from ninth place
and follow him on twitter, @noeldowler.
Photo Credit:  Todd Lewis
This release prepared by, TL Sports & Entertainment, todd@tlsportsent.com (239) 961-2618